Of course grilled vegetables taste amazing, but grilled watermelon? Yes! Grilled watermelon slices are perfect by themselves or added to a salad. Give it a try!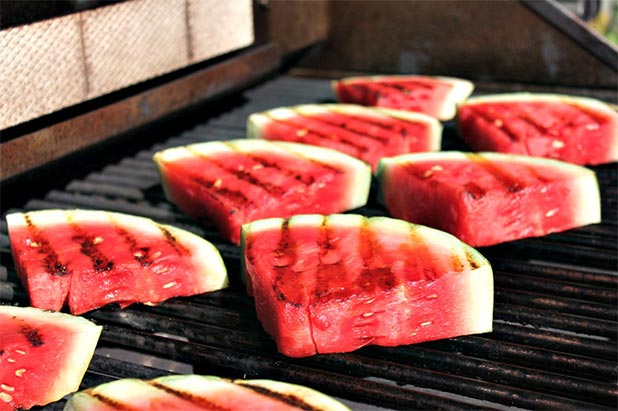 INGREDIENTS
1 Sugar Baby Watermelon
1/4 cup honey
1/4 cup warm water
Additional spices, to taste (see below)
MATERIALS
Gas or charcoal grill
Prep bowl
Pastry brush
DIRECTIONS
Step 1: Prepare and ignite grill. Once heated, keep at medium high heat.
Step 2: Mix honey and warm water until combined. If using, add spices.
Step 3: Slice watermelon into 1 inch thick quarter wedges, leaving the rind on.
Step 4: Brush watermelon slices with honey and spice mixture. If you don't have a pastry brush, you can use a spoon or a spatula and spread the mixture by hand.
Step 5: Place watermelon on grill and cook until grill marks appear, about 2-3 minutes. Flip and cook the other side until grill marks appear, about another 2-3 minutes.
Step 6: Remove from heat and serve.
SPICE IT UP!
• For a little bit of extra spice, try adding lime juice and tajin (a popular Latin American spice blend of chili peppers, lime, and salt) to the honey mixture.
• For a savory flavor, add cumin, chili powder, coriander, and smoked salt, or balsamic vinegar and rosemary.
Or, chop the grilled watermelon and serve it as a salad with crumbled feta or goat cheese and shredded basil leaves.
This is a very flexible recipe with lots of room to improvise – any way you make it, be sure to enjoy it!
Sugar Baby Watermelons are a great summer treat – chilled or grilled!
Recipe courtesy of Jesse McElwain. Jesse prepares plant-based meals for students in New York City Public Schools.