What makes this a perfect pickle? YOU!
You get to choose the herbs that make you say "Yum!" and the spices that make you want another bite. This is a very scalable recipe – the brine is 1:1 vinegar to water, with one tablespoon of salt for every two cups of liquid. Once you get the basic steps down, it's easy to improvise: prepare the veggies, make a spiced brine, add the veggies, fresh herbs, and brine to a jar and seal tightly. After a couple days in the fridge, enjoy!
INGREDIENTS
1 pound fresh Muncher heirloom cucumbers. Other fresh vegetables including carrots, green beans, summer squash, cherry tomatoes, onions, and radishes all work well! Make sure veggies are as fresh as possible. A handful of fresh herbs, like dill, thyme, rosemary, and sage, or a combination.
2 tablespoons whole spices, like black peppercorns, cinnamon stick, mustard seed, juniper, cloves, or coriander, or a combination.
2 cloves garlic, smashed
2 cups vinegar (white, apple cider, rice)
2 cups water
2 tablespoons kosher salt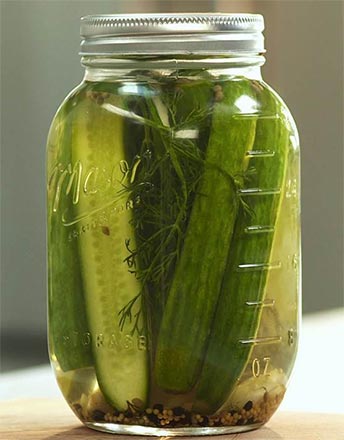 MATERIALS
Stock pot
Measuring cups
Measuring spoons
Ladle
2 pint-sized canning jars (Mason Jars and Ball Jars work great!), cleaned and dried.
DIRECTIONS
Step 1: Make the brine. Combine water, vinegar, and salt in a stock pot and bring to a boil.
Step 2: While waiting for the stock to boil, prepare the vegetables. Slice your vegetables according to your preference – coins or spears both make great pickles! Make sure slices or spears are thin enough – about an 1/8 to 1/4 inch – to fully absorb the brine. Place fresh herbs, whole spices, and 1 clove of garlic into each jar. Add your vegetables and pack tightly – they should not have any wiggle room.
Step 3: When brine comes to a boil, using a ladle, carefully fill the jars all the way to the top. A slight overflow is a good thing! Seal the jars, being careful not to scald yourself, and let them cool to room temperature on the counter. Place them into the refrigerator and store for two to three days before opening. It's worth the wait! Once opened, pickles may be stored for up to three weeks.
Recipe courtesy of Jesse McElwain. Jesse prepares plant-based meals for students in New York City Public Schools.