Don't overlook this easy-to-cook vegetable! Baby bok choy has a mild cabbage flavor that will take on the taste of spices that it is cooked with. This Powerful Plant is so healthy it should be a part of everyone's diet.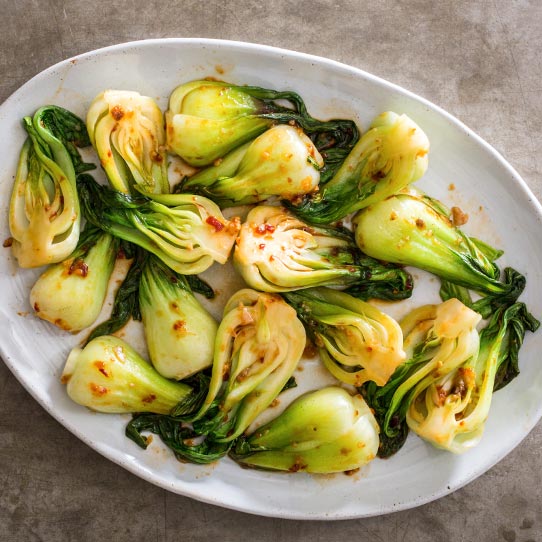 INGREDIENTS
4 tablespoons olive oil or other neutral oil
1 medium white or yellow onion
2 tablespoons minced ginger (about a 1-inch piece of ginger root)
2 tablespoons minced garlic (about 3 cloves of garlic)
1/4 cup rice vinegar, white wine vinegar, or water
4 bunches of baby bok choy
Pinch of salt
MATERIALS
Large sauté pan with lid
Prep bowls
Wooden spoon
DIRECTIONS
Step 1: Clean the bok choy by chopping off all but 1/4 inch of the stock, slicing the bulb in half, and running under water. Use your fingers to clean between each leaf. Pat dry and set aside.
Step 2: Heat 2 tablespoons oil on a large sauté pan over medium heat. When oil is slick and shimmers, and before it begins to smoke, add onion and pinch of salt and sauté until onion is translucent and starts to brown a little around the edges, 3 to 5 minutes.
Step 3: Add ginger and garlic and sauté, stirring constantly, until fragrant, about 1 minute. Do not let the garlic burn.
Step 4: Pour vinegar or water around the pan to deglaze, scraping bottom of pan with a wooden spoon.
Step 5: Add bok choy and remaining oil and stir to coat. Cover pan and cook for 2 minutes or until steam escapes from covered pan.
Step 6: Remove lid and cook, uncovered, until almost no liquid remains and stalks are tender to the touch. Remove from heat and salt to taste. Serve & enjoy!
SPICE IT UP!
• For a little bit of extra spice, try adding white pepper or red pepper flakes along with the ginger and garlic.
• For a little nutty flavor, try adding a tablespoon of soy sauce with the vinegar, and stir with toasted sesame oil and sesame seeds after removing bok choy from heat.
Recipe courtesy of Jesse McElwain. Jesse prepares plant-based meals for students in New York City Public Schools.